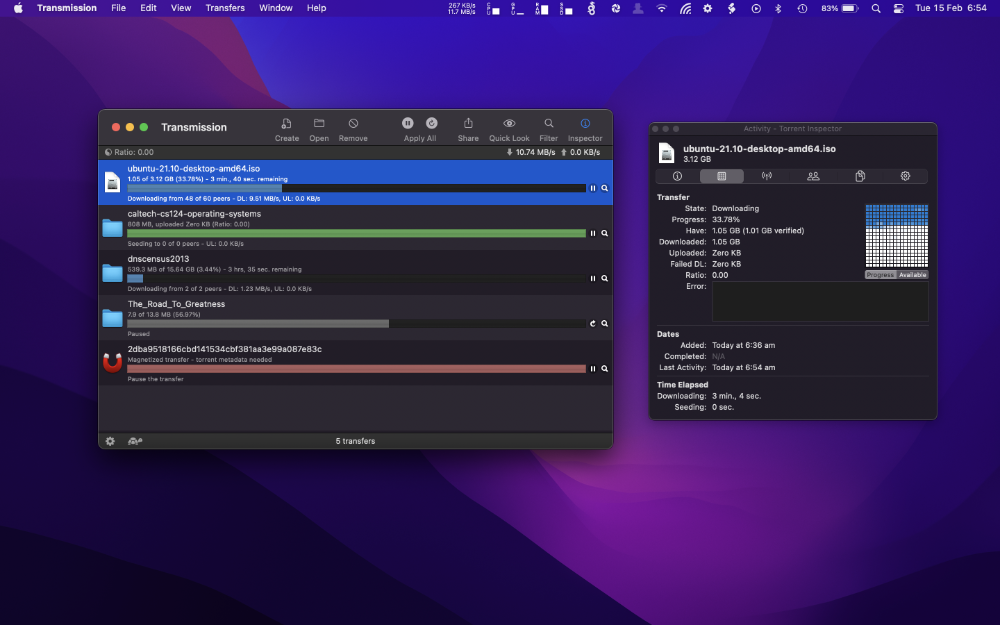 Easy & Powerful
Transmission is designed for easy, powerful use. We've set the defaults to just work and it only takes a few clicks to configure advanced features like watch directories, bad peer blocklists, and the web interface. When Ubuntu chose Transmission as its default BitTorrent client, one of the most-cited reasons was its easy learning curve.
Native for Your System
Unlike many cross-platform applications, Transmission integrates seamlessly with your operating system.
Transmission on macOS is a truly native and polished experience. This isn't some cross-platform app that treats macOS as an afterthought. With a sleek and simple interface, Transmission meets or exceeds Apple UI standards while using native features.
v4.0 is Apple Silicon Native!
The Qt-based Windows UI has been modernized and is fully Windows 11 ready.
The GTK interface has been carefully written to follow the GNOME Human Interface Guidelines and features.
Lightweight & Lightning Fast
Transmission has one of the lowest memory & resource footprints of any major BitTorrent client. Transmission's light overhead is one reason why it is so well suited for home NAS and media servers. Having been used by Western Digital, Zyxel and Belkin, Transmission gives truly impressive performance on almost any compatible hardware.
Open Source &
Privacy Focused
Transmission is an open source, volunteer-based project. Unlike some BitTorrent clients, Transmission doesn't play games with its users to make money.
We don't bundle toolbars, pop-up ads, flash ads, twitter tools, or anything else. It doesn't hold some features back for a payware version. We don't track our users. Our website and forums have no third-party ads or analytics.
Sleek & Feature Rich
The features you want from a BitTorrent client with an easy-to-use interface: privacy protection, a web interface, full peer communications, tracker editing, speed limits, and more.
Download v4.0.4 stable